80/20 Programmes - A Middle Management Example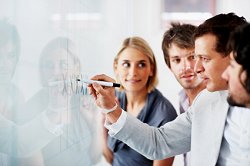 Regular readers will know that we are reluctant to present ready-made solutions. Our whole ethos is based on tailored programmes. However, by way of illustration only, we've provided outline details of an 80/20 Programme which we designed recently for a multi-national distribution business.


Goal

The overall Goal in this example is to increase the personal engagement of middle management with the organisation in terms of:
Customer Focus
Team Leadership
Business Results
Programme Design

80% of learning takes place through the job and is energised when the focus shifts:


Low priority

Unrecognised

Reactive

Learning led

Painful/lonely/frustrating

High priority

Recognised

Proactive

Performance led

Pleasurable/shared/fulfilling


So, the essence of this Programme is that it will have maximum impact on business performance with minimum time out. This is achieved through a balance of short, sharp, practical modules, underpinned by self-directed learning, including a strong focus on the power of Learning Sets. (Click here to read all about Learning Sets).

An outline summary of the Programme, which can be run at any suitable location or at Wadenhoe House, our own residential management centre in Northamptonshire, is provided below.


| | |
| --- | --- |
| Module 1 (2 days) - Programme introduction & mini diagnostic development centre. | Outcome - A clear personal development benchmark as a starting point for the Programme. |

| | |
| --- | --- |
| Module 2 (1 day) - Operational strategy development, scenario thinking & planning. | Outcome - Plans for developing and implementing a departmental strategy. |

| | |
| --- | --- |
| First Learning Set Meeting (1 day) - Progress and challenges on actions plans from Modules 1 & 2. | Outcome - Clarity on progress so far and next steps required for 100% success. |

| | |
| --- | --- |
| Module 3 (1 day) - Team Energy, Engagement & Virtual Leadership. | Outcome - Plans for developing whole-team engagement and productive energy. |

| | |
| --- | --- |
| Module 4 (1 day) - Managing Financial Resources | Outcome - Plans for increasing use of financial statements for improved departmental results. |

| | |
| --- | --- |
| Second Learning Set Meeting (1 day) - Progress and challenges on actions from Modules 3 & 4. | Outcome - Clarity on progress so far and next steps required for 100% success. |

| | |
| --- | --- |
| Module 5 (1 day) - Delivering a customer experience | Outcome - Plans for achieving maximum engagement with customers. |

| | |
| --- | --- |
| Module 6 (2 days) - Enhancing Operational Performance & Teamworking | Outcome - A route map for delivering team excellence against the overall Yusen mandate. |

| | |
| --- | --- |
| Third Learning Set Meeting (1 day) - Progress and challenges on actions from Modules 5 & 6 | Outcome - Clarity on progress so far and next steps required for 100% success. |


To obtain more detail on each of these modules, please contact Ray Atkinson at: ray@wadenhoeconsultancy.com






Ray Atkinson
Managing Director