Development Centres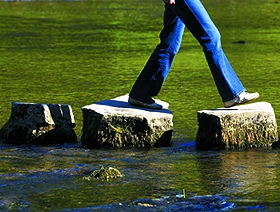 Leadership Potential is Measurable and Predictable.
Measurability
The Wadenhoe starting point is that past performance in itself is not an adequate guide. We need to know not just how people have behaved in the past, but how they will think and act in the future. Our Development Centre is designed to do this in one day.
During the day we give people a series of challenging tasks, which steadily increase in complexity and uncertainty. Some associated with
Intellectual "Thinking" Capability
, are concerned with solving problems. Some are about taking effective action and responding to the people involved - these are associated with
Temperament "Doing" Capability
.
Individuals are then asked a series of Focused Questions, based on their life and work experiences to date, in order for us to learn about the basic capacity and current stage of development of their
Transition Capability
- which is the key to identifying potential for making effective
step changes
in their career.
Reliability
Whilst sharing some of the characteristics of practical exercises and interviews, our process is much more structured and closely defined than either. It relies on looking for specific behaviours in a set situation, and clearly classifying the level of capability that is achieved.
Transition through these levels is measured by:
The complexity and uncertainty of the tasks to be undertaken.
The time-span and decision space within which the job holder thinks and operates.
The level of risk inherent in the situation.
For more information on how this process can be contextualised for individual organisations, please see our related article: "
Step Change Leadership Potential
", which contains more detail on our Rolescoping™ process.
Transferability
Because we are measuring level of capability in just eight
core transferable qualities
, the outcomes from the process provide a shared organisational language for talent identification and development. This overcomes one of the main barriers to talent movement across organisational boundaries, whether these are structural, geographical, cultural or product.
Development Centre "Snapshot"
Successful Development Centres require much more than effective exercises on the day. Pre and Post activities are essential to success and can be tailored according to individual organisational requirements. For the purpose of this article we have focused solely on Development Centre Day:
Exercise One: Intellectual "Thinking" Capability

Here we use a Case Study to explore three interrelated qualities of Problem Analysis, Creative Thinking and Judgement. Because we are interested in the individual's thinking ability and not his or her knowledge, it is very important that the Case, whilst having some general familiarity, does not require specialist knowledge.

Exercise Two: Temperament "Doing" Capability

Here we use a progressive "storyline" situation, as the basis for a role play which gradually increases in complexity, uncertainty and pressure for action. The challenge at each level is how the individual behaves using three interrelated qualities of Drive, Resilience and Emotional Intelligence. Because we are interested in what the participant does, rather than what he or she thinks, a Role Play, which is both personalised and confronting is essential.

Exercise Three: Transition Capability

Here we use real life and work experiences of the individual to explore their capacity to convert the raw Intellectual and Temperament Capability identified from the first two exercises into effective action. Because this exercise is based on real challenges faced by the individual, the level that can be attained is necessarily limited to the highest level of challenge they have so far experienced. Research and experience tell us that if this basic capacity is present, it can be increased with further development. We are interested in two qualities: Organising: This is the application of the Intellectual "Thinking" Capability and Implementing: This is the application of the Temperament "Doing" Capability.

First Feedback & Next Steps

At the end of the three exercises, our observer team members, pool the information obtained, which then provides the basis for some initial 1:1 feedback on the day. While the team meeting is going on, another team member provides inputs on related topics and next steps in the process. All of this sets the scene for further Post-Centre activities.
Working with Wadenhoe
For over 20 years The Wadenhoe Consultancy has been working in partnership with organisations to design, deliver and sustain leadership and organisation development activities that have measurable and permanent performance outcomes. One of our core capabilities is talent identification and development.
It is not our style to make assumptions about the precise needs of organisations, so the generic process outlined here can be expanded in line with organisation requirements. Also we have developed materials for training in-company Observers, to work alongside members of the Wadenhoe team.
With appropriate design adjustments, Assessment Centre applications that we have significant experience of implementing include:
Graduate Identification and Development
Managerial and Professional Development
Senior Team Development
To find out more about the process and the research that underpins it, please contact Ray Atkinson on:
ray@wadenhoeconsultancy.com.