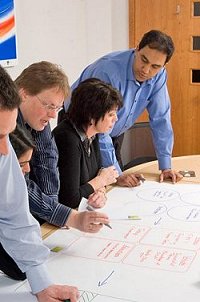 The success of industrial services businesses is their capability to forge very strong relationships with each of their client organisations. Now more than ever, the differentiation in customer relationships and service excellence that can be achieved through the Energy and Engagement of every employee is the key to success.
Line Managers are the single biggest influence on how energised and engaged people are in the business. It cannot be "performance managed" it must be earned through effective leadership.
Over the last few years, The Wadenhoe Consultancy has gained a strong reputation for its understanding of Team Energy and Engagement. Now, in one highly interactive day, we combine all the elements of our research and experience to provide managers from industrial services businesses with straightforward tools that can be applied immediately.
The Key Benefits of our approach are:
Link to Strategy: Translating our understanding of client strategy into clear Engagement outcomes.
Real Time Solutions: Starting where managers are at, so that they leave with clear solutions to their Engagement challenges.
Energy & Engagement: Focusing first on Team Energies, so that managers have a clear understanding of what they need to do to convert Corrosive, Comfortable and Resigned Energy into Productive Energy.
Brevity and Impact: Having "little and often" Engagement conversations that generate: Commitment, Confidence, Energy and Competence.
Engagement Pack: Enabling managers to pass on the learning to their people with ease.
Immediate Measurable Impact: Completing a 90 day Engagement "Snapshot".
Workshops are designed for a maximum of 12 managers. However, the Wadenhoe team can all deliver to the same, consistently high standard, with flexibility in one day. So, where required, we have the capability of handling large groups over a short timeframe.
As an organisation that has broad and deep understanding of the industrial services sector and employee engagement,
the impact of our work on personal and business performance is always positive and fast.
For more information please email: ray@wadenhoeconsultancy.com