Multi-Site Leadership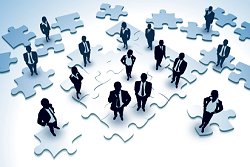 Nick's Story
It's October 2010, in the Cellar Bar at Wadenhoe House. Nick arrives at 10.30pm for a workshop that had started at 5.00pm! This is a summary of his opening statement:
"I shouldn't be here ....I haven't got time.....I'm not adding value anywhere ....at work I'm rushing from site to site with no time to make any real contribution.... I get home too late to see my kids and too tired to have a proper conversation with my wife!"
Nick's "Shadow"
We know that the "shadow" cast by a multi-site leader has a real impact on whether or not local leaders and teams choose or don't choose to engage with their objectives and the organisation, which can then influence:
Team Relationships: Reflected in the way that people work with colleagues and deal with customers.


Company Reputation and Brand Value: The quality of leadership has a marked impact on how the organisation is viewed by customers and other stakeholders.
A very different job!
Nick had been appointed to his new multi-site role six months earlier. This followed a very successful period as a Branch Manager, where Nick had been closely involved in all aspects of the business. He was a strongly driven individual who had pushed hard for promotion, so when the opportunity had come up to become a Regional Manager of five branches, he was the natural choice.
No one - Nick or the organisation, had considered in any great detail the
step change
that Nick was making
- the job was an entirely different size and shape - definitely not just more of the same
(see our article on
Step Change Leadership Potential
). There were six fundamental differences in the size and shape of his new role:
Operational management of delivery became operations leadership of others to deliver.


Virtual leadership was the key to success, in a context of local "cultural" differences.


Higher levels of problem-solving, creative thinking and decision-making.


Tactical and strategic considerations were needed, alongside operational ones.


In a tough trading environment, broader and deeper business planning was required.


New relationships: peers, stakeholders, senior management etc.
Leadership "at a distance"
The challenges being experienced by Nick were not unique. He really did believe that his job involved physically being seen on a regular basis by the whole of his team - some hangover from a previous workshop which talked a lot about "visible leadership" and "walking the talk".
With our combined team experiences of multi-site leadership and some very recent research into "Virtual Leadership", we knew that there were other ways of creating
tangible leadership
apart from Nick's physical presence. These included:
Addressing six leadership challenges:
Expanding local power and control
Creating unity behind the whole team rather than local goals
Moving decision-making to whole team priorities
Increasing tangibility of whole team objectives
Moving the team from competition to collaboration
Establishing trust
We also knew that another element of Nick's solution was his leadership capability to engage his people through commitment, energy, confidence and competence:
Commitment
Helping them to shape their own goals and believe that they can make a difference

Energy
Being consciously clear about what we are looking for and recognising the positive things they are doing

Confidence
Giving them the courage to walk towards challenges and make decisions, without reference to him

Competence
Spending more time developing the team and continuously exploring ways for them to utilise their full potential
Nick had not really grasped the need to
Let Go
, which in his case meant making the transition from being recognised as an excellent Site Manager to
being recognised as Leader of an excellent multi-site team
.
His high level of personal Drive - potentially a very big leadership plus, was not being used effectively to balance Energy and Focus, which was causing severe time management problems.
Above all, he needed to recognise that the
shadow
he left behind after a branch visit needed to be strong enough to motivate in his absence - it was about engagement at an emotional level -
Passion not just Procedures
.
Working with Wadenhoe
For over 20 years The Wadenhoe Consultancy has been working in partnership with organisations to design, deliver and sustain leadership and organisation development activities that have measurable and permanent performance outcomes.
It is not our style to make assumptions about the precise needs of organisations. We are however very clear that our new work in the area of multi-site leadership, has the potential to make a real difference.
To find out more about our Virtual Leadership research and the multi-site leadership workshops developed from it, please contact Chris Hooton on:
chris@wadenhoeconsultancy.com.