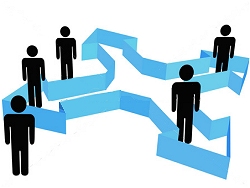 TALENT SPOTTING & DEVELOPMENT

Welcome to the Wadenhoe Spring Newsletter.

As the evenings get a little longer I'm reminded of our summer programme of Supper Clubs. One evening in particular comes to mind, which took place in 2007 with the theme:

"Is succession planning dead?"

The HR Director of a very successful UK retail organisation offered us a counter question:

"Was succession planning ever alive except in the filing cabinets of HR?"

The debate that evening was stimulating as always, not least because of the underlying recognition that succession planning clearly did exist in some of the organisations represented. However, there was a clear consensus overall that the successes from the planning process in terms of individual managers who were ready, willing and able to take up positions that became available were limited at best.

Managers who had been identified as possible successors for more senior roles were all too frequently:
"Not quite ready".
"Technically excellent but lacking people skills".
"Too crucial for the success of the project on which they were currently engaged".
"Unattracted by the position being offered".
Equally, the group were clear that the cost of external recruitment was significant in terms of agency fees, opportunity costs and damage to morale lower down the organisation, who questioned "what did that mean for their promotion prospects?"

Finally, before having supper, we examined the paucity of information that existed in many organisations, about the roles for which successors were being sought. Issues that were raised included:
Complicated competency frameworks that required a cross between Einstein, Superman and Mother Theresa to fulfil!
Lack of strategic thinking about how the role would need to change in the future.
Lack of real acceptance of the cost to the business both short and long term of not having the depth of talent required to deliver the strategy.
So why am I reflecting back on a warm summer evening several years ago?

I have met with a wide range of HR Directors and Managing Directors over recent months and, despite some significant progress, the issues we discussed in 2007 are starting to appear again - most noticeably in organisations who are emerging from the recession with exciting growth and change strategies but without the management and leadership talent to deliver them.

Why should this be so?

The stories I am being told seem to have the following themes... Click here to read on...






Ray Atkinson