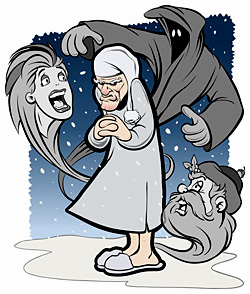 In this, the 200th anniversary year of Charles Dickens' birth, Ray Atkinson, Managing Director of The Wadenhoe Consultancy, looks at one of the best-known - and most seasonal - companies, and suggests some solutions to its current difficulties.
Once upon a time, they were stock market darlings. Downsizing, mergers, rationalisation - they were doing everything the City liked.
Recently however, the share price has been seriously underperforming against its main competitors. Is this a sign of real problems, or just a blip in the career of one of our longest established companies, one that can trace its roots back to the Victorian era? I'm talking, as you may have guessed, about
ScroogeCo International
(formerly the distinguished trading house of Scrooge and Marley).
I talked to its Chairman/MD, Ebenezer Scrooge VI, a descendant of a cousin of the firm's co-founder. He was confident that the company remains on track.
I asked him about the rumour of a significant increase in staff turnover, especially amongst talented specialists and senior managers.
He admitted that this was true, but argued that the company needed a clean-out anyway. And they had now introduced a new performance-related pay structure, which he was confident would stem the "talent drain".
"People work for money", he insisted. "Our new system builds on this simple, obvious fact of life. It offers considerable incentives to achievers. We were also getting soft on underachievers, but that's changing too. Leadership is all about Performance Management, as you should know as a specialist in Leadership Development.
He was unable to keep the scorn out of his voice as he spoke the last two words. I was about to point out that at Wadenhoe we talk about Performance Development - Mr. Scrooge is quite right to be sceptical of leadership development for its own sake - but he moved on at once to a scathing attack on a consultancy that had offered to design a "Leadership Development" programme for him.
They said that
"people choose or don't choose to engage with their organisation"
and that they wanted all sorts of fancy things out of their work - meaning, expression, satisfaction: all that sort of "soft" stuff. Then he mentioned a well-known type of boiled sweet. "They said that leadership was about inspiring people through Engagement by focusing on Commitment, Energy, Confidence and Competence" he went on, "and that businesses needed to spot individuals with the ability to do this and develop them. By which I suppose they meant throw money at them, then watch them leave when they get headhunted".
I found myself in some sympathy with Mr Scrooge at this point: retention of talented people can be a problem. We've done a lot of work on it at Wadenhoe, and believe we have identified some key factors. When I began to outline them, however, citing our work on Effective Development of People With Potential, Mr Scrooge interrupted with a comment about boiled sweets again. Maybe it was time to change the subject.
Customers. Rumour has it that as well as losing key staff, ScroogeCo has been losing market share. Again, Mr Scrooge did not deny the rumours. But he said that customers could be pretty fickle lot. I suggested that there was a link between the issues of staff and customer retention, as
when good people leave they often take customers with them
. Mr Scrooge agreed, but reminded me that the new incentive scheme was going to keep management focused on the job in the future.
The conversation moved on to the links between Engagement and Energy. Actually it nearly didn't, as on hearing the word "energy", Mr Scrooge assumed a most unpleasant expression and looked on the point of uttering a foul oath - when a young boy came up to him (Mr. Scrooge prefers the company's traditional form of messaging), and said that there was a crisis in the sales department. A senior manager had just handed in her notice.
The interview resumed after a break. "Where were we? Oh yes, energy - as I said before, our people will be energised by the combination of the new incentive scheme and performance management". I pointed out that Energy was directly linked to Engagement, which came back to effective leadership and
I started to identify the risks associated with comfortable, resigned and corrosive energy within teams
. Mr Scrooge was clearly worried about this, but was not sure what to do. He said that he knew what I was going to say next, that the solution was to waste a lot of money on leadership development.
I was keen to talk more about ScroogeCo International and its problems - and even keener to talk about the solutions to those problems - but Mr Scrooge glanced up at the venerable grandfather clock in his office and suddenly terminated the discussion. "We're on the brink of another recession and time is money!" he observed.
I left with a feeling of sadness. Despite everything, I have a soft spot for old Ebenezer. We go back a long way: we met on a training weekend (which he left on Saturday lunchtime, citing those boiled sweets again) many years ago. And his scepticism about some of the wackier fringes of leadership development - particularly the passion for "silver bullet" solutions that promise everything and deliver very little, does strike a chord with me.
He understands that leadership development is about delivering improved performance
in the light of a company's strategy. Anything less is a luxury:
too many developers have lost sight of this
.
The trouble is that the world is becoming even more complex and unpredictable - unexpected events in 2011 alone demonstrate this and 2012 won't be any different. For success, organisations need collective leadership that can make valuable connections between all the stakeholder groups and who connect the strategic to the personal. If leaders cannot deal with this then they are doomed to fail - and there is
a shortage of leadership development that helps them to do this
.
I find this exciting, the ever-changing business environment keeps all of us at Wadenhoe on our toes, and we like it that way. Deep down inside Ebenezer seems afraid of the future. When I first met him, he was a cheerful, optimistic, albeit opinionated young man. Now he seems more bitter and defensive every time we meet.
It's not too late to change. The Wadenhoe Consultancy could still help him to lead the changes by creating a truly energised and engaged organisation, responsive to pressures from customers and stakeholders, to markets and its own internal dynamic changes. I keep trying to persuade him to let us do this for him: our list of satisfied customers gets even longer, but he doesn't seem to want to join it.
As I left the City headquarters, I found myself wondering what it would take to alter Mr Scrooge's mind... then my thoughts moved on, to getting a cab and to my family, all coming home to begin celebrating Christmas. It was late. The narrow City cul-de-sac where ScroogeCo International still have their corporate HQ had become fog-filled. As I reached the top of the alley, I thought I heard noises behind me. The rattle of chains, it sounded like, and a faint wailing sound.
Or was it just my imagination?