Words... Actions... Trust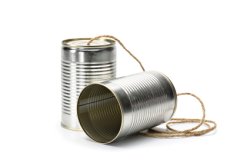 "Smarter", "Slicker", "Sharper", "Pace" and "Urgency", are all words that we've seen used recently to describe organisational strategies focused on aspects of "creativity, innovation and speed".

This is just one example of a good strategic "story" that is often talked but not seen to have practical and consistent follow through. We all know of attempts to disseminate aspects of strategy through mission statements, posters etc. that have misfired.

So how can organisations ensure that changes of this kind "stick" and that a great deal of time and money is not wasted on initiatives with little or no sustainable change for the organisation?
Several recent Wadenhoe assignments have involved helping organisations to implement change programmes of this kind. However the route from the
strategic intent
to a development programme that creates real
movement for change
is seldom a straight line. Yet there is frequently a great temptation to "get into the action" as soon as possible. We know that there are stations to be visited and re-visited en-route to a successful outcome. They start with a critical question:
What is influencing people to do things in the way they do - current behaviours?
Trust & Actions
Our recent Newsletter (
click here
) considered the theme of Trust, and how it is anchored in Reputation and Confidence. Another aspect of Trust is how it can influence the confidence that people have to take appropriate actions without reference to their manager or where they might need to deviate (however slightly) from established processes.
Behaviours are influenced by the prevailing values and culture, which in turn are created by factors like: processes, structures (formal & informal), controls/measures, leadership style etc. With this in mind, organisations need to ask an even more telling question:
Can these People achieve this Performance in this Place?
The Wadenhoe Triangle
Readers that are familiar with our work will know about The Wadenhoe Model®. A framework designed to ensure that all development activities have the best possible chance of being strategically effective. The part of this framework that is particularly powerful for programmes that involve behaviour change is the
Performance - People - Place Triangle
: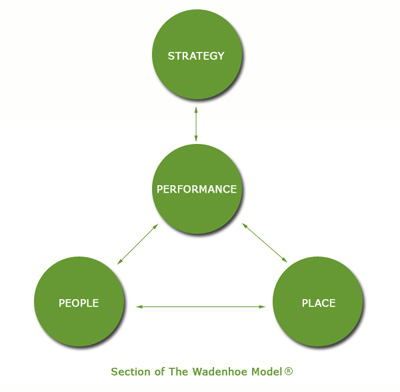 Strategy
The use of the word "strategy" in this context relates to the thinking that is guiding the organisation toward its strategic intent, in our example: "creativity, innovation and speed". Strategic thinking is intended to have a far reaching effect on an organisation's performance. However, if the detail behind the words is not clear outside of the board room (in some cases outside the CEO's head), then little will change.
Our recent experience illustrates clearly the kind of actions needed to help organisations understand the strategy thinking in which Performance is anchored, so that it can be translated into concepts people relate to.
Performance
We intend the word "performance" to mean the crucial areas that must be addressed in order to achieve the outcomes required. To perform well individuals need to understand the performance required of them and how this fits together to improve the overall performance of the organisation. The fact that there might be another bullet point called: "act with creativity, innovation and speed" added to their list of priorities, is not evidence that the
Performance
required is fully understood. It is sad fact of organisational life that even in 2012, job descriptions are frequently still bureaucratic lists of tasks to be done, rather than results to be achieved!
We can help with a framework of questions needing to be addressed in order to highlight the gaps that must be closed and the challenges that must be resolved.
People
This is about really knowing the people who will make it happen, both as groups and individuals. It is also concerned with ensuring that people have the necessary skills, knowledge and attitude required to deliver the performance required. Leaders must ensure that individuals are fully engaged in the new objective, which means focusing on their Commitment, Energy, Confidence and Competence to deliver.
We can help with an Engagement Plan template for closing any gaps between where they are now and where they need to be.
Place
Here organisations must consider both tangible and intangible factors, and the extent to which they support or inhibit the new performance required. The more tangible factors include physical environment, organisation structure, systems and procedures. Intangible factors are perhaps more difficult. The culture of the organisation and its effect on the capability to perform as required must be understood, along with the impact of other factors like: controls, measures, "informal organisation" and leadership style.
We can help with an audit checklist drawn from research and recent experience.
Connecting up the Triangle
Finally, organisations need to ask four questions:
Strategy/Performance Link:
Have we developed a communication plan for clarifying the "story" that links our strategic intent with performance requirements?
Performance/Person Link:
Do we have an action plan for closing any capability gaps which will enable people to achieve the performance required?
Performance/Place Link:
Are we clear about actions (if any) required by the organisation to create an environment in which the new performance can be delivered?
Person/Place Link:
Have we resolved any personal priority and concern issues that could inhibit performance?
We can help here with a "Connection Checks" tool.
Short cuts to Success?
There are no short cuts but there are ways to move faster.
We hope that the ideas outlined have helped organisations to think through the steps en-route to implementing a strategically effective change programme. Also how Wadenhoe facilitation can help speed up progress towards "getting into the action".
To learn more about our experience of applying The Wadenhoe Model® in the context of translating
strategic words
into
operational actions
, please contact:
ray@wadenhoeconsultancy.com.